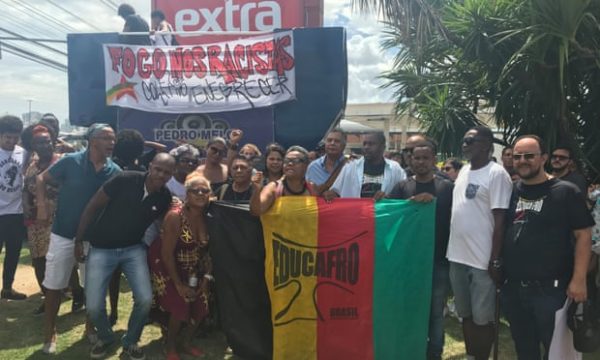 Black Lives Matter protests have erupted across several major cities in Brazil following the death of a 19-year-old black teen who was "suffocated" to death by a supermarket security guard.
Activists have taken to the streets in what they're calling the beginning of Brazil's own Black Lives Matter movement.
"We have to take a position against this to stay alive. It's a basic issue," student Lyz Ramos, 19, told The Guardian.
The unrest began outside the Extra supermarket in the upscale Barra da Tijuca community of Rio de Janeiro following the death of Pedro Gonzaga, who died of a heart attack on Thursday after being placed in a "sleep hold" by security guard Davi Amâncio.
RELATED: Black Lives Matter At School Week Aims to Mandate Black History Lessons And Hire More Black Teachers
Local activists took to the streets outside the supermarket as well as in Sao Paulo, Fortaleza and Belo Horizonte before other protests occurred in Recife on Saturday. The death was captured in a bystander's video and shows Gonzaga lying motionless on the ground while being pinned under the full weight of Amâncio's body. Witnesses begged for the guard to let the teen go, with one woman shouting, "he's suffocating him!" Another witness yelled that young man had turned "purple."
Emergency crews rushed Gonzaga to a nearby hospital where he went into cardiac arrest twice before dying, Brazilan outlet Extra Online reports. A spokesman for the supermarket chain has since defended the security guard with claims he was in the process of stopping an "attempted theft" when he placed Gonzaga in a "sleep hold."
"After the individual was restrained by the security guards, the store called the police and the rescue immediately," the supermarket said in a statement. "The company has already filed an incident report and is cooperating with the authorities to further investigations."
News of Gonzaga's death sparked the hashtag #VidasNegrasImportam (Black Lives Matter) as many Afro-Brazilians have compared the teen's death to that of Staten Island man Eric Garner, who died after an NYPD officer placed him in a chokehold during his July 2014 arrest. Garner's final words, "I can't breathe," became a battle cry for the U.S.-led Black Lives Matter movement.
"There has never been a Black Lives Matter [movement] in Brazil to compare to the United States, but this year I think it will happen more often because the black community is more and more united," said Rene Silva, one of the organizers behind the Rio protest. "We want to talk about more about black lives matter, [and] for society to understand we can't stand racism anymore."
But despite the protest, Brazilian newspaper O Globo, claims the teen was being taken by his mother, Dinalva Oliveira, to a rehab clinic when they stopped by the supermarket for lunch. They claim Gonzaga had an emotional fit that led to his encounter with the guard.
"Suddenly he got up and, according to a family friend, had an outbreak, a hallucination," the newspaper reported. "In testimony to the Homicide Police of the Capital, the security officer (Amâncio) who applied the coup told him that Gonzaga tried to take the gun from him and, although there were other security guards, he said he acted in self-defense."
But witnesses and protestors say this is not true and Gozanga's mother can be heard in the video shouting that her son is unarmed.
"Every day we get more news of more youth dying," said protester Vanderlea Aguiar. "A big movement is growing every day and we are making more people aware."
Press play below for the shocking video.