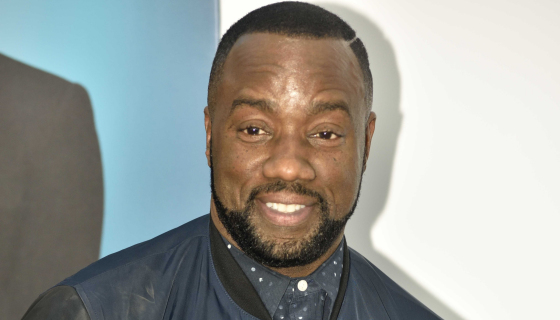 Actor Malik Yoba has been getting praised online after he recently came out as trans attracted in a heartfelt Instagram post. However, his heroic light was soon dimmed by a trans woman who accused him of paying her for sex when she was a teenager and also by his ex who was offended by him coming out to the public before he came out to his own children.
The "Empire" star posted a video on Instagram on Aug. 26, of 20-year-old Maurice Willoughby, a young man who was teased for being in a public relationship with his transgender girlfriend Faith Palmer. Willoughby reportedly killed himself through a drug overdose on Aug. 20 after being bullied in his local Philadelphia community. Yoba responded to Willoughby's death by posting the now-viral video of the man being teased and criticized the men in the video and others who attempt to humiliate Black men over their sexual orientation. Yoba then revealed that he, too, is attracted to both trans and cisgender women.
"I love ALL women AND count MYSELF among those that find themselves trans attracted and I too have felt the self imposed shame that comes with that truth but it's time to speak up," Yoba wrote. "It is NOT about GENITALIA OR SEX but about attraction to the soul and humanity of an individual and often the beauty that is in the courage and conviction to live ones truth! As a self identified cis heterosexual man I too am learning what it means to be trans attracted."
But about a week after media outlets began to take notice of Yoba's post, a woman by the name of Mariah Lopez Ebony came forward with shocking allegations where she accused the "New York Undercover" star of paying her for sex work almost 20 years ago when she was a teenager, News One reports.
"His admission to being sexually attracted to Trans women, is bound to open a Pandora's box for him; not because the women are Trans, But because many of the Trans women he engaged in sexual exploration and exploitation with on 14th Street, Times Square and elsewhere, were minors. Including myself," she wrote.
Ebony claims Yoba would drive around New York City's Meatpacking district looking for Black trans prostitutes and recalled the day she learned he was interested in her.
"You always remember celebrity clients. It's like time slows down. You remember every detail, Blood pounding. He was cute, and polite, don't get me wrong. But I'm sure he knew what he was doing, was Wrong….." She recalled. "What Malik paid me to do, as a 13 and 16 year old, wasn't love. His ignoring that I was clearly a child prostitute, wasn't love."
Ebony went on to allege that the actor begged for unprotected sex and was sure she was not the only underage sex worker he had been with.
"Where was his LOOOOOOOOVVVVEEE for Trans women over the last 20 years? Where are his Trans girlfriends? Something tells me I'm not the only one who got some dirt on this individual and, something also tells me that he didn't just up-and-decide to 'come out', he was pushed. Careful not to make a fool of yourself supporting him and his message. I am sure I am not the only trans person who was a minor when Malik Yoba first "loved" them," she continued.
But while others are still praising Yoba for coming forward with his sexual orientation, his ex and the mother of his two children is offended that he would come out to the public before coming out to their two children.
Yoba posted an Instagram video on Monday where he thanked people for supporting him. But his kid's mother, Terry Vega, whose IG name is @terry1andonly, left a comment. acknowledging her support for his current trans relationship, but shading him for not speaking to his kids about it first.
"As the mother of our two beautiful children you already know how my support for you has always been unconditional," she wrote. "I expressed that 2 months ago to you when I became aware of your current trans relationship," she continued in her comment. "Why did you NOT have a conversation with our children and wait till last night to text our 1st born with this info. Yet you were preparing your Public months ago on IG! Our children support you and keep so much a secret of what really goes down with our family dynamic. I asked to meet you over a month ago and you have yet to make time. So here I am !! If you know better then do better! Family is first over ALL."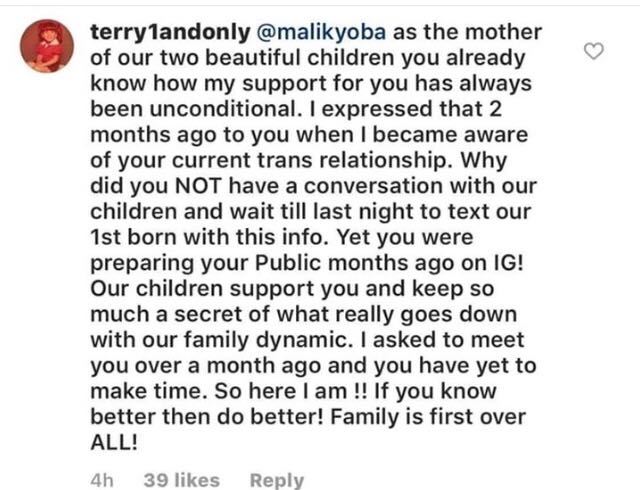 Yoba has yet to respond to his ex or Ebony, but it appears he had a few skeletons in his closet that came out with him.