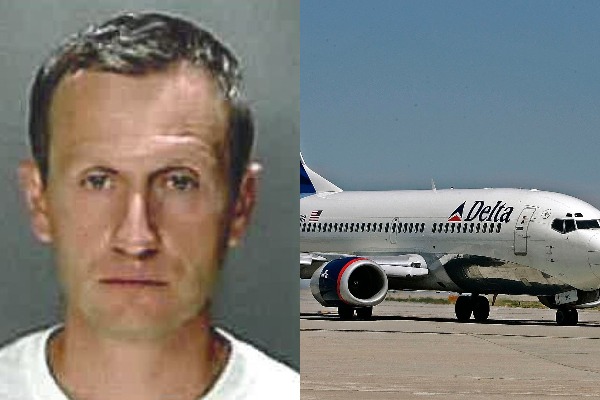 A Delta pilot was arrested right before he attempted to fly a plane full of passengers while intoxicated.
37-year-old Gabriel Lyle Schroeder was kicked off a fully boarded plane in Minneapolis on Tuesday and arrested, according to new reports. After authorities suspected Schroeder of being drunk, he was handcuffed just after 11 a.m. after police at Minneapolis-St. Paul International Airport found him reeking of alcohol and hiding a bottle of booze on him.
The Rosemount, Minnesota, resident had left a pre-boarding TSA screening line for crew members after he realized additional screening was taking place, airport spokesman Patrick Hogan told CNN.
"The individual left the line, which drew suspicion," Hogan said.
He returned to the line shortly — but officers had already reported him to the Minneapolis Airport Police, who conducted two sobriety checks, according to local station ABC 5. One report found he was under the influence of alcohol, while the other report is still pending.
A Delta spokesperson also confirmed the pilot was in possession of a "bottle" of alcohol.
Other employees suspected Schroeder of being intoxicated because they could smell the alcohol on his breath, the report states. The pilot was arrested and released later Tuesday. No formal charges or complaints were immediately filed against Schroeder pending the results of toxicology tests, which could take as long as a week, Hogan told CNN.
Delta spokeswoman Kate Modolo confirmed to the network that the airline is working with local authorities.
"Delta's alcohol policy is among the strictest in the industry and we have no tolerance for violation," the statement said. "Delta is cooperating with local authorities in their investigation."
No word on if Schoeder has been terminated. At the time of his arrest, all passengers had boarded San Diego-bound Flight 1726 and were waiting at the gate for their departure.
The passengers were forced to disembark the plane after Schroeder's arrest and were slightly delayed, Hogan told the outlet.
"There's always a chance the plane might have taken off," he said. "There's a possibility of that."