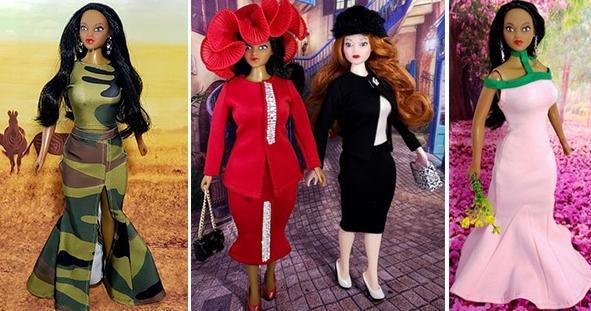 A new black women-owned line of dolls are diverse in color and size and bringing on all the fashionable trends!
Beautiful Blessings launched in 2016 and has doll collectors from all over embracing their exquisite dolls that reflect realistic proportions, ethnicities, and wardrobe.
The Beautiful Blessings Doll Company was designed and produced by Raveen James. Each doll in the collection comes with a full wardrobe, a collection of couture ensembles, elegant and trendy fashions and accessories.
"I created the Beautiful Blessings Doll Collection to build self-esteem and confidence," says Raveen. "I wanted girls and women to own dolls that help them realize that they are beautiful inside and out."

"I created the Beautiful Blessings Doll Collection because I wanted to help girls love themselves and to reinforce that they are beautiful just as they are. Let's put an end to young girls body-shaming each other, putting themselves down, or believing that they have to be half-dressed to be considered beautiful," says Raveen. "These dolls are for them to see for themselves – they are already fully beautiful. And that's what the Beautiful Blessings Doll is all about – owning who you are."
Each doll has its own signature elegant and trendy fashions and accessories that are available in a variety of styles and fashion-forward patterns. They also come packaged with an extraordinary, empowering message that will inspire any child who receives one.
RELATED: Jay-Z' TIDAL Announces $1 Million Musician Grant Program
Sorority themed colors are also available for members of Alpha Kappa Alpha, Delta Sigma Theta, Sigma Gamma Rho, Zeta Phi Beta!
Don't worry if you're an adult who desires one of these dolls.
"Beautiful Blessings are perfect for any age. Because we're never too old to play with dolls." says James.
Beautiful Blessings Dolls are available online. To purchase and learn more about the products, visit www.iamabeautifulblessing.com