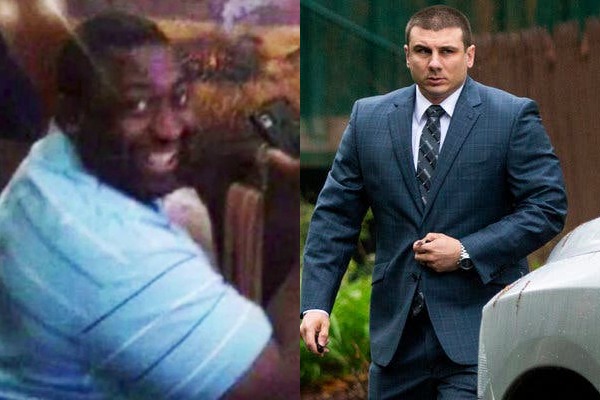 The officer responsible for the chokehold death of Eric Garner has been suspended after a judge recommended his termination.
On Friday an administrative judge recommended firing Daniel Pantaleo, the New York City police officer accused of using a chokehold in the 2014 death of an unarmed black man. Garner's dying plea "I can't breathe" became a rallying cry against alleged police brutality within the Black Lives Matter movement.
Pantaleo's lawyer will have about two weeks to submit responses before Police Commissioner James O'Neill makes a final decision on his punishment.
"Today's decision confirms what the Civilian Complaint Review Board always has maintained: Officer Daniel Pantaleo committed misconduct on July 17, 2014, and his actions caused the death of Eric Garner," said Fred Davie, chairman of the review board that served as the prosecutor.
The administrative judge, NYPD Deputy Commissioner of Trials Rosemarie Maldonado, had to decide if Pantaleo used a banned chokehold to take Eric Garner to the ground during an arrest on a Staten Island street. Pantaleo's lawyers argued he used an approved "seat belt" technique to subdue Garner, who was accused of refusing arrest after officers claim he was selling untaxed cigarettes.
Bystanders videos show Garner crying out "I can't breathe" at least 11 times before he fell unconscious. The medical examiner's office determined a chokehold as Garner's cause of death.
Rev. Al Sharpton, spoke alongside two of Garner's children and called on the police commissioner to "immediately and unequivocally accept the recommendation of the judge and do it right away."
"The city should not have in its employ someone that would choke someone to death, in violation of police guidelines. Someone who heard someone say 11 times, 'I can't breathe,'" Sharpton said.

"This decision is a decision that is good for the citizens of the city, but make no mistake about it, this is not justice for the Garner family. Justice for the Garner family would have been a federal proceeding or a criminal proceeding in the local courts."
Just last month, many were left outraged after federal prosecutors announced they would not bring criminal charges against Pantaleo, 33, following a five-year civil rights investigation.
Chants of "Fire Pantaleo" interrupted NYC Mayor and 2020 presidential hopeful Bill de Blasio at Wednesday's Democratic presidential debate in Detroit.
Press play below for more on this story.