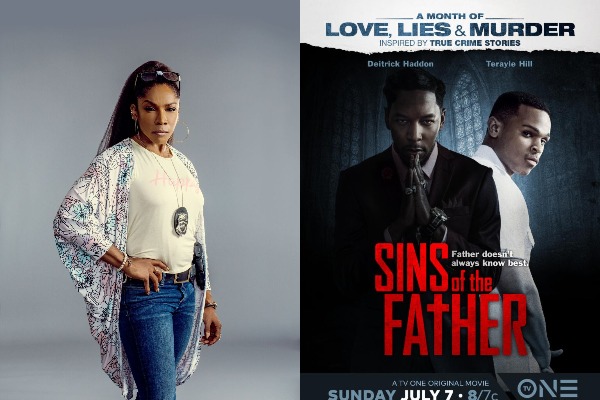 Actress AJ Johnson is headed back to television screens after taking some time to focus on her fitness and life coaching career.
The "House Party" and "Baby Boy" actress and fitness/life coach is set to star in a new film sparked by real events, SINS OF THE FATHER. The TV One film features gospel singer/actor Deitrick Haddon (The Gospel), A.J. Johnson (Baby Boy), Clifton Powell (Ray), Terayle Hill (Merry Wishmas) and Angela Davis (I Feel Pretty).
RELATED: Jasmine Sanders of "The DL Hughley Show" Understands Megan Good's Criticism of "Judgemental Christians" And Shares Her Mission for Foster Care Awareness Month
Inspired by TV One's true crime programming, SINS OF THE FATHER follows Detectives Phylicia Richardson (Johnson) and Perez (Pardo) as they investigate the vicious murder of first lady Karen Burnett (Davis), the beloved wife of Pastor Clarence Burnett (Haddon). The crime sends shock waves through the couple's close knit Atlanta community and the police are forced to take a deeper look into the Burnett's inner circle, including Pastor Burnett's son Robert Banks (Hill). As the interrogation unfolds, family secrets of abuse, infidelity, lust and cruelty are revealed within the Burnett household. The detectives soon discover that the ungodly actions of one person can have a deadly impact on many.
"In a culture where #ChurchHurt has been the trending topic, this film will give the viewer insight on how wolves in sheep's clothing operate," said gospel artist and film star Haddon. "Buckle your seatbelt because it's about to get real!"
SINS OF THE FATHER is written by Katrina O'Gilvie and directed by Jamal Hill, with Leah Daniels Butler and George Pierre as Casting Directors. AJ Johnson also worked with Hill on bringing this story to life.
During our interview with AJ, she touched on her character in the film, the collaborative effort she played behind the camera in "Sins of The Father", unearthing issues within the black family and black church that are too often swept under the rug, and more.
The veteran actress also touched on how empowering it feels to have been one of the first to represent the "fun brown skin girl" in major blockbuster films and the legacy she helped to create. You can also find out which old school show she would like to see get rebooted amid an increase in rebooted TV classics and how she plans to manage her film and life/fitness coaching career.
TV ONE'S ORIGINAL MOVIE SINS OF THE FATHER PREMIERES SUNDAY, JULY 7 AT 8 P.M. ET/7C, FOLLOWED BY AN ENCORE PRESENTATION AT 10 P.M.
Press play below to hear the interview in full.