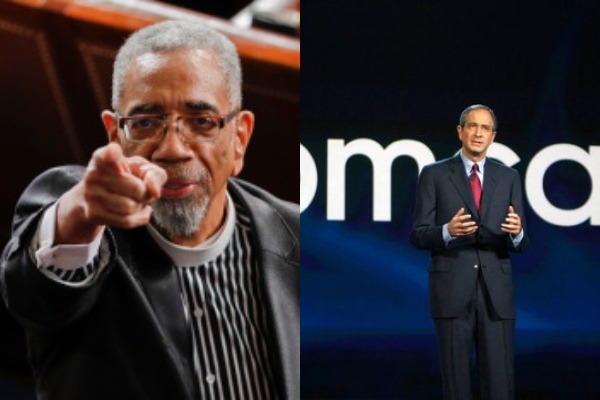 Congressman Rep. Bobby Rush (D-IL) is calling for the break up of cable giant Comcast for what he and many are calling a violation of civil rights.
Rush issued an attack against Comcast on Friday and called for the major cable conglomerate's breakup for "attempting to undo the Civil Rights Act of 1866." In an open letter to Comcast's CEO, Brian Roberts, Rush called the company out amid their racial discrimination lawsuit by media mogul, Byron Allen.
"It is evident to me that with this demonstration of corporate greed, Comcast has forfeited and repudiated its claim to be an inclusive company that is a friend of the black community," wrote Rush. "And, with this betrayal, has shown itself to be an enemy of minority communities."

"It is my belief that the Comcast Corporation needs to be broken up," Rush concludes.
Comcast issues an appeal to the Supreme Court against Allen's lawsuit, which will force Allen to prove race was the sole motivating factor for any discrimination claims.
"Comcast…has reached such prominence that it now disregard[s] these communities with a cold, callous corporate insensitivity that is stultifying, arrogant, harmful, and intensely painful," Rush wrote.  "This is further made clear by the fact that it would seek to weaken the protections of the Act to merely prevail in a lawsuit."
Comcast responded to Rush's letter by providing a long list of African-American themed films led by Black directors and actors that they have been involved in.
"There is no major media company in America that has done more to promote diverse programming than Comcast," a Comcast spokesperson told Deadline.

"We've gone above and beyond the MOUs from the NBCUniversal transaction in every case… Our film divisions are making films like Us, Get Out, Straight Outta Compton, Harriet, Girls Trip, Little, and Queen and Slim, all with African American directors and stars. We've dramatically increased on air and behind the camera diversity across all of NBCUniversal."
Allen supported Rush's letter to Comcast, telling Deadline that he is "highly confident that if Comcast shows up in the U.S. Supreme Court next week to challenge the civil rights of over 100 million Americans, Comcast will be broken up."
RELATED: Ice Cube Calls Out Cable Companies Trying to Block His Bid to Purchase 21 TV Channels
Allen's lawsuit has received support from civil rights leader Dr. Bernice King and celebrities like Killer Mike, The Grio reports. Allen and Comcast's case will go before the SCOTUS on November 13.
Watch Byron Allen explain the lawsuit in more detail below.