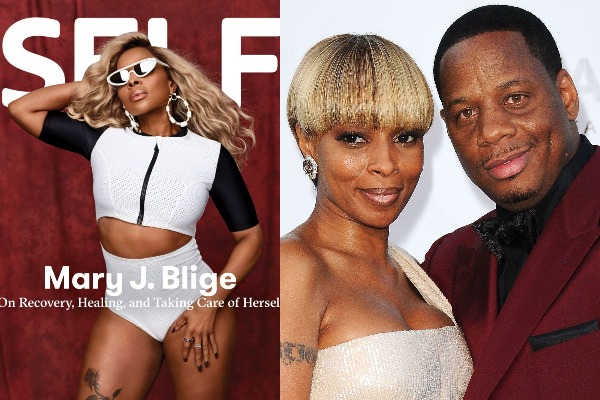 Now that Mary J. Blige has been divorced from her ex-husband Kendu Isaacs for over a year, she is speaking more of her truth and admitting to giving him credit for things he didn't deserve…like her sobriety.
RELATED: Mary J. Blige Refuses to 'Take Care of Any More Men' in Relationships
The Grammy award-winning singer was open about her past issues with drug and alcohol abuse. During her 13-year marriage to Isaacs, the "No More Drama" singer would often credit her ex-husband for helping her overcome her drug and alcohol addiction. However, she recently told SELF Magazine that in retrospect, "he did not deserve that credit."
"When I look back, I see that we all want what we want. And we want it to be the way we want it to be," she tells the Magazine. "I wanted a savior. I'd been hurting so long, and so much, and so bad."
The singer admits to using to cover up her own insecurities at the time.
"We numb ourselves with drugs and alcohol and people and shopping and shit, to cover up what's really going on inside," she said. "You're taking drugs so you can go out and feel courageous, or go out and feel beautiful or whatever. You're doing it to cover up something."
Now instead of crediting Kendu, Mary says what helped her get sober was hitting rock bottom and fearing death.
"I've seen visions of what I would look like if I kept doing drugs," she added. "If I saw myself almost dying, or if I almost died, or almost O.D.'d, why would I do that again?"
Blige filed for divorce from Isaacs in July 2016 due to his infidelity. The divorce was finalized in June 2018 after a messy court battle where Issacs demanded $130,000 a month in spousal support. Now that it's all behind her, Mary is focused on loving herself, her family, and the world.
"I love people, I love the world, I love my nieces, I love my nephews, I love my family, I love them so deeply," she explains. "But right now it's about me and little Mary. It's like that's my baby, my little girl. She needs my help…and I'm not going to ever let anybody hurt her again."