Get your popcorn ready because Ms. Hot Topics is set to spill the whole tea and nothing but the tea in her new biopic. It was revealed that Wendy Williams is set to address Lil Kim's claims that the talk show host slept with The Notorious B.I.G.!
During her recent interview with Andy Cohen on Bravo's "Watch What Happens Live", Wendy gave details about her upcoming biopic that she is producing for Lifetime. The daytime talk queen promised her fans that the new film will give some insight on a longstanding rumor where Lil Kim claims Wendy hooked up with her ex-boyfriend The Notorious B.I.G.
During the show, a "WWHL" viewer asked Wendy if Kim's claims would be addressed the upcoming flick, and Wendy revealed that it would addressed in the film rumored to be called "Just Wendy."
"That will play out in my Lifetime movie, OK?" she states before giggling as she hid her face in her hand.
The rumored surfaced back in 2013 when Williams dissed Kim's cosmetic enhancements on "The Wendy Williams Show".
"In my mind, I knew your goal was always to look like La Toya Jackson. You've out-La Toya'd La Toya in your new look. Don't blame Photoshopping, blame your plastic surgeon, girl," she said in an on-air segment, which MTV reported was also posted to her Twitter account with Kim tagged in it.
The Queen Bee shot back on Twitter where she accused Wendy of giving Biggie fellatio back in the day.
"@WendyWilliams Stop hating on me because U sucked Big's d— & he didn't want nothing to do with yo ass after that," she tweeted before adding in a separate post, "It's time for the world to know the real. I'm not playing with yo ass no more. Let's Get it!!!!"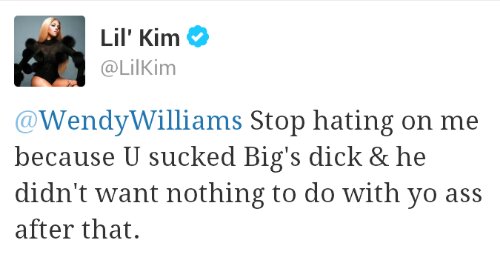 Whew, chile! Wendy's biopic is looking good already and we haven't even seen a trailer! Williams will co-produce the film with Will Packer that will air on Lifetime network in 2020.
In addition to scandalous rumors, the biopic is also set to address the racism and sexism she faced in Hollywood, the childhood fat-shaming she faced from her family, a high profile superstar who allegedly date raped her, and her decade-long addiction to cocaine. Not to forget her divorce from longtime husband Kevin Hunter at the hands of his infidelity with a younger woman whom he impregnated.
Get your popcorn ready now!