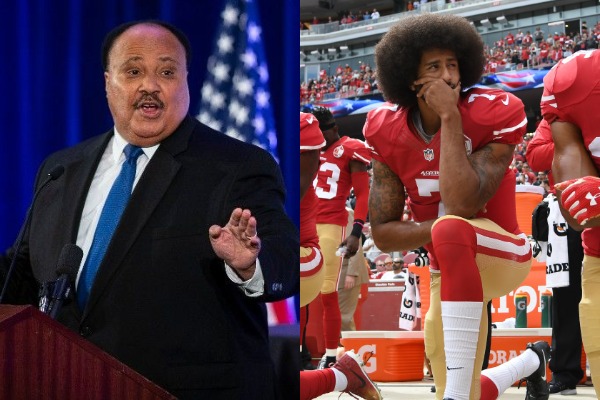 Martin Luther King III is calling for a full boycott of the NFL until former player Colin Kaepernick is returned to the league.
The son of the late great Civil Rights activist MLK spoke with TMZ Sports and shared his thoughts on how Kaep could return to the NFL "overnight" if fans came together and stopped supporting the league until the former quarterback was hired.
"What would change it overnight is if the public decided, 'Okay, we're not going to watch,'" MLK III says.
RELATED: Ex-NFL Player Marcellus Wiley Says 'Mixed Race' Colin Kaepernick Can't Feel 'Full Weight' Of Injustice
While King is aware of how difficult it would be to get the NFL fans to go cold turkey, he still believes drastic measures need to be taken in order for the league to stop "blackballing" the 31-year-old athlete and activist.
"The industry did blackball him, which is not good," MLK III says … "He certainly is one of the most talented quarterbacks even today, probably."
Who knows if Kaep will get a possible offer from one of the few NFL teams currently in need of a QB. The Pittsburgh Steelers recently lost Ben Roethlisberger for the year. While the New Orleans Saints star QB Drew Brees will be forced to sit out for the next two months due to a thumb injury. The Jets' starter, Sam Darnold, and backup, Trevor Siemian, are both out due to injuries, TMZ Sports reports.
RELATED: J. Cole Tells The NFL To Hire Colin Kaepernick, "Let The Man Work"
"There are times when you need strategic quarterbacks who have a proven record," King III says. "And, certainly, Colin Kaepernick is one of those."