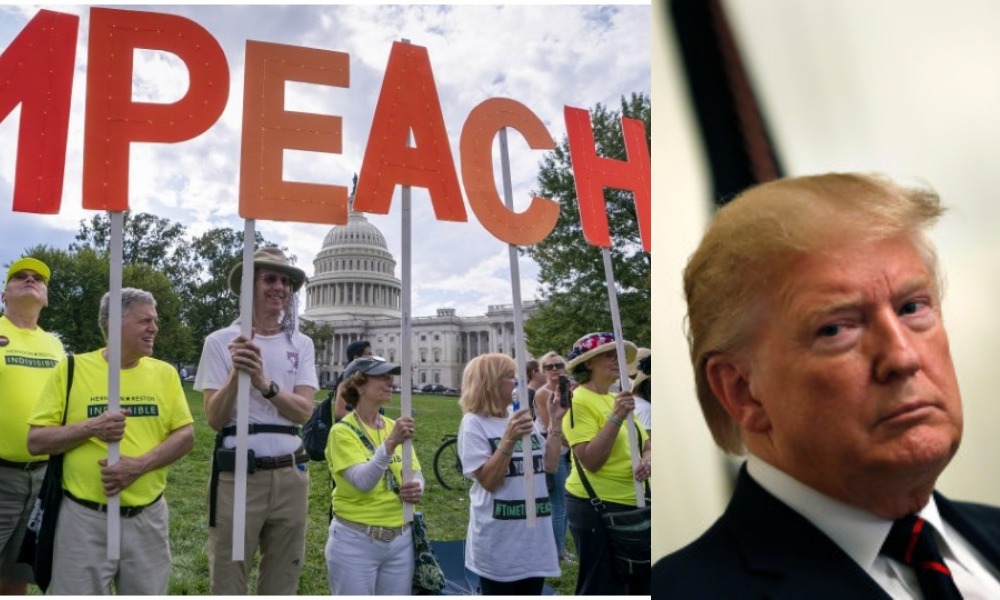 After a series of mixed emotions amid the impeachment inquiry into Donald Trump, new polls show a majority of Americans are now in support of the probe.
According to a CBS News poll released Sunday, 55 percent of Americans are now in support of an impeachment inquiry into President Trump. Two-thirds of Americans also believe Trump's call with Ukraine's president where he allegedly asked the country to dig up dirt on political rival Joe Biden and his son constitute a "serious problem," according to an ABC News/Ipsos poll.
RELATED: 3 Reasons The Whistleblower Complaint Could Lead to Trump's Impeachment
The same poll also shows that only 17 percent of Americans were surprised by Trump's actions. CBS found that 87 percent of Democrats support the impeachment probe while 27 percent of Republicans and 49 percent of independents expressed the same sentiment. 41 percent of all Americans described Trump's actions as illegal, and another 31 percent believe his actions were "not proper, but legal."
The ABC/Ipsos poll found that 64 percent of Americans feel Trump's actions were "serious," with 43 percent saying they are "very serious" and 21 percent describing them as "somewhat serious,".
The polling numbers continue to shift amid House Speaker Nany Pelosi's announcement of the inquiry last week. An NPR/PBS Newshour/Marist poll conducted Wednesday found that 49 percent of Americans approved of an impeachment inquiry, with 46 percent disapproving.
The latest polling numbers are not looking good for the president as he nears the 2020 election against Democratic frontrunners Joe Biden, Elizabeth Warren, Bernie Sanders, and Kamala Harris.