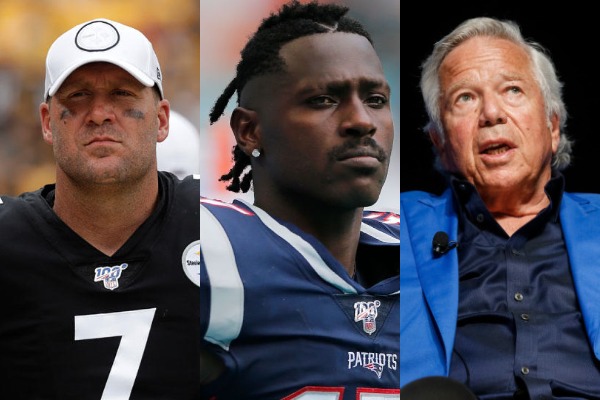 After recently getting released from the New England Patriots over his sexual assault lawsuit, Antonio Brown is calling out the sex crimes committed by both Robert Kraft and Ben Roethlisberger.
The former NFL player took to Twitter this week to rant about his release just days after the 2019 Super Bowl champions cut Brown from the team. His release came after his former trainer accused him of sexual assault in addition to releasing text messages that some viewed as threatening.
RELATED: Antonio Brown Accused of Raping His Former Trainer in New Lawsuit
While on Twitter, Brown took aim at Patriots owner Kraft who was caught in an illegal prostitution sting that was uncovered earlier this year. It was revealed back in May that Kraft allegedly paid prostitutes for oral sex at a massage parlor. He pleaded not guilty to two misdemeanor counts of soliciting prostitution and had the video thrown out.
In a since-deleted tweet, Brown said Kraft got caught up in "parlor speculations."
Brown also referenced the Pittsburgh Steelers quarterback Ben Roethlisberger and the two rape accusations he faced back in 2008 and 2009. At the time, Roethlisberger was only suspended for four games following a civil lawsuit that was dropped.
"Four games for Big Ben crazy world I'm done with it," Brown tweeted.
Brown then claimed that he would no longer play in the NFL.
"Will not be playing in the NFL anymore," Brown tweeted. "These owners can cancel deals (and) do whatever they want at anytime. We will see if the (NFL Players Association will) hold them accountable. Sad they can just void guarantees anytime … will see if they pay up!"
The former NFL player is now in risk of losing all of the money he initially signed for when he joined the Patriots one week after he was cut by the Oakland Raiders. The Patriots initially agreed to a $9 million signing bonus for Brown, but it is very likely that he will not receive any of that money due to a clause in his contract, ESPN reports.