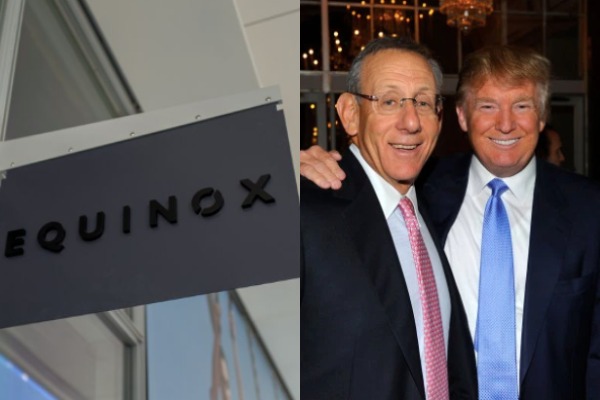 Fans of the fitness gyms Equinox and Soul Cycle are threatening to cancel their memberships after learning the owner is holding a fundraiser in support of Donald Trump.
#BoycottEquinox and #BoycottSoulCycle began trending on Twitter Wednesday afternoon after news spread that Ross, who is the founder and chairman of the company that owns both Equinox and Soul Cycle, was hosting a fundraiser for Trump.
According to the Washington Post, the event will take place at Ross' Hamptons home where guests will pay anywhere from $5,600 to $250,000 to attend. But after word got out that the owner supports Trump, celebrities like Chrissy Teigen, Sophia Bush, Billy Eichner, Jamie Chung and many others expressed their outrage and decision to cancel their memberships.
"Bring The Funny" host Chrissy Teigen uploaded a video where she asked her followers to cancel their memberships to both gyms.
"A lot of my cool, socially aware, progressive, awesome, amazing friends are members of Equinox or SoulCycle" Chrissy said. "I just want to let you know that their owner is hosting a giant Trump fundraiser."

"F-ck them," Teigen said. "Cancel your memberships today."
Sophia Bush let her followers know that she was cancelling her membership.
Whelp. Buh-bye @soulcycle. Won't miss ya! ✌🏼 https://t.co/y6HBv21XNa

— Sophia Bush (@SophiaBush) August 7, 2019
"The Lion King" star Billy Eichner wrote, "Whelp. Buh-bye @soulcycle. Won't miss ya!"
Just contacted @Equinox to cancel my membership after many years. Money talks, especially with these monsters. If it's too inconvenient for u to trade one LUXURY GYM for another, then you should be ashamed. (No disrespect to the many wonderful employees at my local Equinox). Bye!

— billy eichner (@billyeichner) August 7, 2019
"Hangover II" actress Jamie Chung wrote, "I used to love what they were about but knowing that the CEO helps fund hate. I'm out."
Damn. Another one bites the dust. No longer supporting @Equinox or @soulcycle. I used to love what they were about but knowing that the CEO helps fund hate. I'm out.

— Jamie Chung (@jamiechung1) August 7, 2019
SoulCycle has responded by releasing a statement saying their company "in no way endorses the political fundraising event and does not support it."
While promising that no profits are being used to fund politics, they encouraged their fans to keep coming.
"We'll always stay true to our values and committed to our community," it states. "We know who we are and we know what we believe in, and nothing will ever change that."
No word from the actual owner of the gyms and his support for #45.