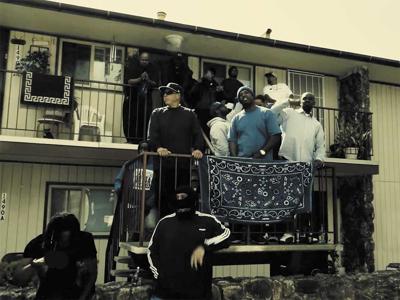 Six households in Seaside, California have been evicted over their participation in a crip rap music video in their apartment complex.
Tenants in the Del Monte Manor complex in Seaside received eviction notices in July accusing them of having ties to "criminal or wrongful activity" after they allegedly participated in "an unauthorized and unpermitted film project involving what appeared to be a music video on the premises."
The "We Crippin" music video appeared online on June 16 but was quickly taken down after the Seaside Police got involved, Monterey County Weekly reports. The song features two rappers, identified as N.Sane Ready and Da Bigg Homie, who can be heard rapping about killing gang rivals among other gang activities.
"I got 30 in the clip and I ain't missin'" the duo raps.
The video was shot on May 26, in response to the killing of Tremain Calloway several days earlier, The Weekly reports. Calloway was shot to death while driving near the housing complex. Two men, who police say belong to the Crips gang, have been arrested and charged with murder.
The music video included aerial footage of Seaside and the Monterey Bay but was primarily shot in front of the Del Monte Manor complex. But Del Monte Manor's management company, TerraCorp, was not feeling the unsolicited promo in the video and served the tenants who were seen in the video with eviction notices.
Princess Pope, an advocate on behalf of the tenants, is calling out the management company's extreme response to their involvement. She says the tenants who were seen in the footage did not know about the content of the music.
"The tenants I talked to thought they were part of a memorial for Tremain Calloway," she says.
According to Pope, two military veterans and a family receiving Section 8 housing subsidies are among those being evicted, Monterey County Weekly reports. The tenants were given 90 days to vacate their homes.
The U.S. Department of Housing and Urban Development subsidizes low-income units in the area and say the agency cannot intervene in the situation.
"Unless there are allegations of unlawful discrimination and a formal complaint has been filed, HUD has no authority to intervene in ongoing evictions, and as such, does not and cannot get involved, as evictions are legal actions to be adjudicated by a judge through the judicial system," a HUD spokesperson wrote by email.