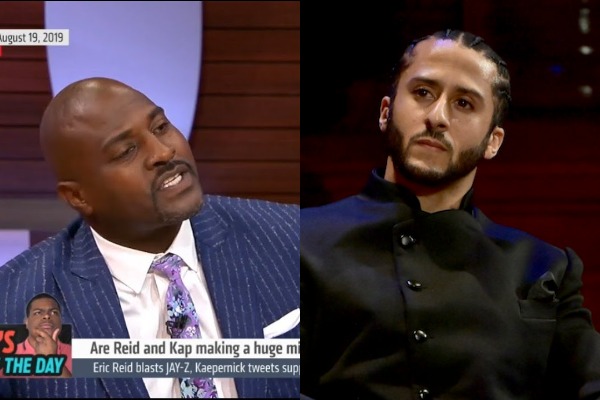 Former NFL player Marcellus Wiley is facing criticism for sharing his belief that Colin Kaepernick never had to experience the "full weight" of racial injustice because of his "mixed race".
While speaking on the controversy surrounding Jay Z recent deal with the NFL, the ex-NFL player Marcellus Wiley appeared on ESPN where he shared his opinion of Kaep.
"Kaepernick comes from a situation where he never felt the full weight of these injustices. This is a mixed race guy who was raised by a white family from Wisconsin to central California. Respect — that does not disqualify you from talking for us but when you make misteps and miscalculations, oh, it comes back into play."
The 44-year-old former pro-athlete also questioned the ethnic background of Kaepernick's girlfriend's Nessa Diab, saying her ethnicity is "not Black."
"We got two leaders who don't even feel the weight of the controversy."
Nessa's parents are both Egyptian.
Marcellus Wiley says his "pass" for Colin Kaeprnick has expired. Doesn't think Kap and Nessa are qualified enough to lead the movement the way they've been due to not being fully black. This is getting uglier by the day pic.twitter.com/NUMBByeMBy

— Phella (@PhellaDaFam) August 19, 2019
Wiley's comments come after Jay Z's recent press meeting with NFL Commissioner Roger Goodell where he said we are beyond kneeling and it's time for "actionable items."
Press play below for more on this story.