Actor Tituss Burgess is not here for Andy Cohen's subliminal shade towards comedian Eddie Murphy and is making sure the "messy queen" knows it.
Burgess had quite the awkward interview on Bravo's "Watch What Happens Live" on Sunday after the late night talk show host asked the "Unbreakable Kimmy Schmidt," star about his experience working with Eddie Murphy on the upcoming film, "Dolemite Is My Name."
"He was very problematic for the gays at one point when I was coming up," Cohen said of Murphy, in reference to the comedian's early stand-up routines from the 1980s where he shared anti-LGBTQ humor and jokes about HIV/AIDS. 
It was obvious that Burgess wasn't feeling the shady question and defended the "Nutty Professor" star while returning the shade to Cohen on live television.
"He wasn't problematic for Tituss, and we had a wonderful time," Burgess told Cohen. "He was great. Any troubles he may have had with gay people, I guess, are gone because he loved me." 
At that point, Burgess appeared to express his discomfort with the question by mouthing words to someone off-camera, prompting Cohen to take pause and asked him what he said. 
"Keep going, girl," the actor quipped to him. "Do your show."
Murphy has been plagued by his dated jokes throughout the course of his career. However, he did issue a public apology in 1996.
 "I deeply regret any pain all this has caused," he said at the time, adding, "Just like the rest of the world, I am more educated about AIDS in 1996 than I was in 1981."
But Burgess wasn't done giving Cohen a piece of his mind and took to Instagram to blast the moment as "a display of ratchet behavior by a well-connected man having blatant disregard for one of his guests" in the comments section of a video posted Monday.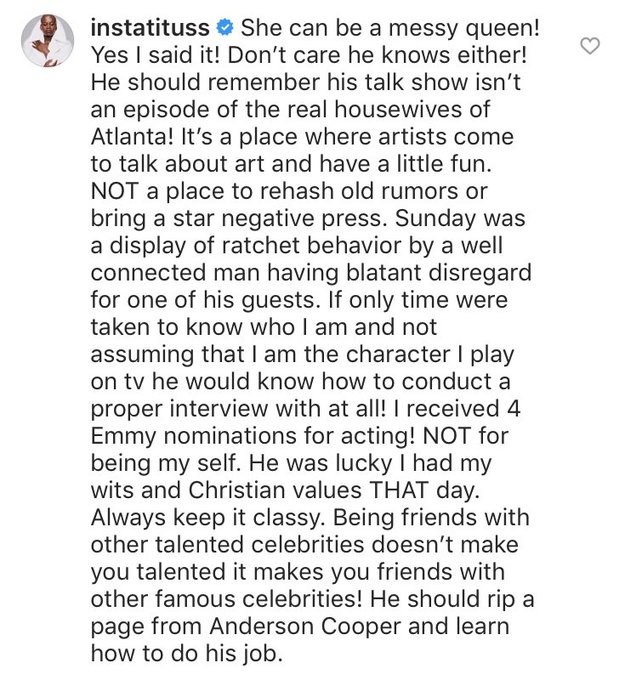 "She can be a messy queen," Burgess wrote. "Yes I said it! Don't care he knows either … if only time were taken to know who I am and not assuming that I am the character I play on tv he would know how to conduct a proper interview…"

Cohen "was lucky I had my wits and Christian values THAT day," he added, suggesting the host "rip a page from Anderson Cooper and learn to do his job." 
For his part, Cohen seemed taken aback, and suggested on his "Andy Cohen Live" radio show Monday that he had "no idea" why Burgess reacted the way he did to the line of questioning.
"He wasn't having me," Cohen said, as reported by People. "I ran into him at a bar in Harlem like, eight months ago, and we had a really nice talk. So I don't know."
Cohen added his praise for the actor having "made an entertaining show."
"Sometimes it's fun to watch the show when the guest hates the host," Cohen said.
Press play below to watch the full awkward exchange.