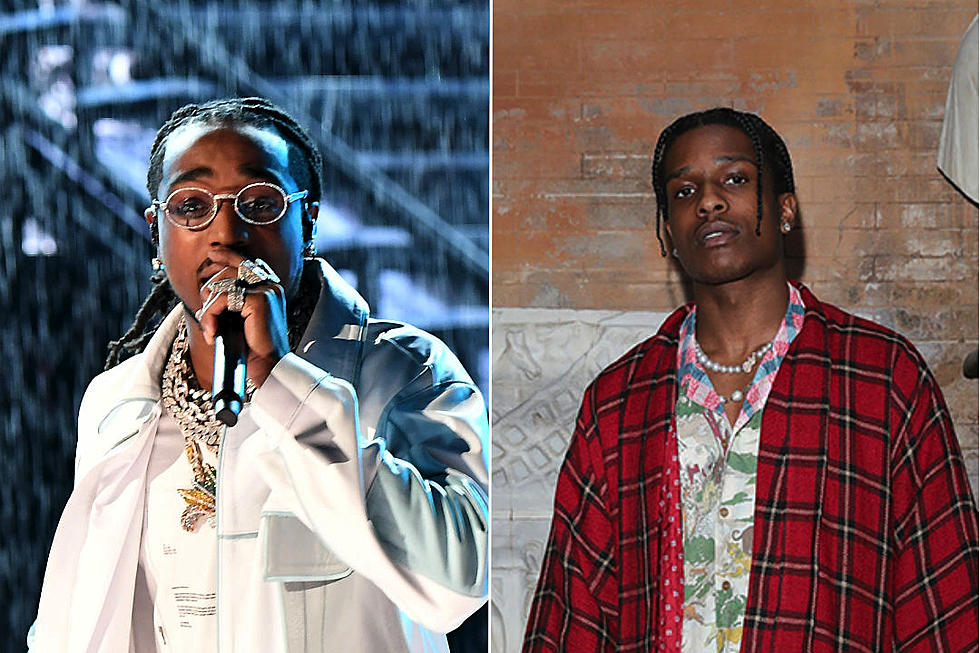 Migos rapper Quavo has recalled his negative run-in with police in Sweden amid A$AP Rocky's inhumane incarceration in the European country.
Rocky, born Rakim Mayers, was arrested earlier this month after he and three associates defended themselves against two aggressive Afghan migrants who followed and harassed them along a busy city block. Rocky captured the entire encounter on video and uploaded it to Instagram.
RELATED: A$AP Rocky Detained In Swedish Jail With 'Feces, Dirty Water, Inedible Food'
TMZ recently caught up with Quavo and asked him about his thoughts on Rocky's situation. The "Pure Water" emcee recalled his "real tough" run-in with police in Sweden.
"I will tell you one secret: Sweden had us down on the curb nearly as soon as we landed," he told the outlet.

"They had me and my cameraman, and they were trying to lock us up too. Sweden is real tough. Free my boy Rocky!"
The A$AP Mob frontman is reportedly being held in solitary confinement without any visitation or call privileges. He faces up to six years in prison if convicted. It was reported earlier this month that the jail Rocky is being held in is a "disease-ridden" facility, TMZ reports.
The rapper could be held in prison until he is due to stand trial in mid-August. Meanwhile, the two Muslim males who instigated the physical encounter with Rocky are now under investigation for molestation, EURWeb reports.
A Change.org petition calling for Rocky's release has since accumulated over 600,000 signatures and has been shared by Justin Bieber, Nicki Minaj, T.I., and Post Malone.
A$AP Rocky's manager, John Ehmann, recently released a statement saying,
"For a man that has not been proven guilty to go through these conditions, while visiting a country to headline their festival, is troublesome."

"To keep Rocky and his colleagues in jail is punishment before due process." he added.