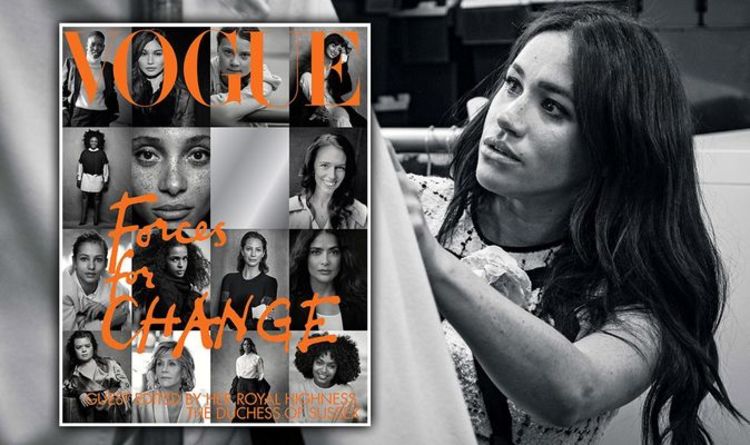 Meghan Markle has made history as the first guest editor of British Vogue's September issue and the Duchess of Sussex promises to deliver "an issue of both substance and levity".
The American born actress turned British royal collaborated with the magazine's Editor in Chief Edward Enninful on a special September issue titled "Forces For Change,". The issue features "15 world-leading women who are reshaping public life for global good," with each one being personally selected by the duchess herself.
She describes the cover as a "diverse portraiture of women of varying age, color, creed, nationality and life experience, and of unquestionable inspiration."
Meghan tackled the editor role head-on and not only selected all of the activists and change-makers featured on the magazine's cover, but she also wrote her own pieces, interviewed Michelle Obama, wrote an introduction to a poetry piece, and contributed a story about the charity SmartWorks. She even got her husband, Prince Harry, to interview Dr. Jane Goodall for the historic issue.
In her editor's letter, the new mother explained how the collaboration came about during a meeting with Edward in January when they first discussed her potential appearance on the cover of a future issue.
"Edward . . . instead of doing the cover, would you be open to me guest editing your September issue?" she recalled. But she was also a bit nervous to make such a bold request. "I typed and deleted the question several times until I built up the courage to ask."
Edward was happy to accept the offer and the two got to work,
"trying to blend in, to keep up with the pace of these seasoned professionals, and to learn as much as I could as quickly as possible."
Edward praised the duchess for quickly grasping the editor role and responsibilities during the later half of her pregnancy.
"I discovered someone with a real editor's mind, who knew how to align what she wanted to say with everything we stand for here at British Vogue. When I first showed her layouts of how some early features might look . . . Well, she just got it. From ideas and the flatplan, to selecting and commissioning writers and photographers, it was a process she instantly understood."
The duchess described her aim to produce "an issue of both substance and levity," recognizing the particular importance of the September issue within the fashion industry.
"Throughout these pages you'll find Commonwealth designers, ethical and sustainable brands, as well as features with designers not about clothes but about heritage, history and heirloom. You'll also find a beauty section that puts its energy towards internal beauty, celebrating the power of breathing and meditation, and a favorite workout that urges you to use your heart as much as your core."
You can get your hands on Meghan Markle's guest-edited September issue of British Vogue on newsstands and digital download Friday, Aug. 2.