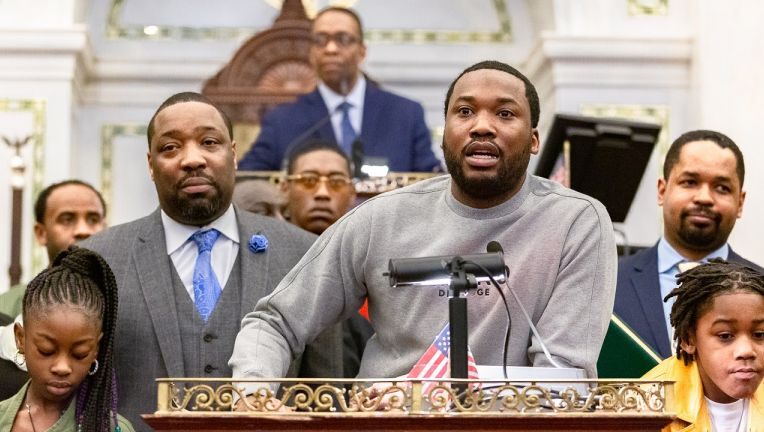 Rapper Meek Mill has a lot to celebrate after receiving the good news that his 2008 conviction was thrown out.
The Philly native took to Instagram on Wednesday to announce his new Dream Chasers record label he launched as a joint venture with Jay Z and Roc Nation. Shortly after sharing the big news, it was revealed that Meek's 2008 gun conviction was tossed out and he's being granted a new trial and a new judge to re-fight the charge.
A panel of judges handed down the decision Wednesday in Pennsylvania Superior Court, TMZ reports. It was found that the "Going Bad" emcee deserves a new trial, with a new jury and a new judge who doesn't share the same bias as his previous judge, Judge Genece Brinkley.
After announcing his new record label, Meek returned to social media to celebrate the court's ruling.
"As of right now I'm not on probation and I am not a felon anymore," adding a bunch of praying hands. He went on to say, "today was mega!!!"
Prior to having the case thrown out, there were reports of corruption surrounding a crooked cop and a judge who allegedly tried to use Meek's case for her own personal gain. This time around, a panel of 3 judges who were not previously involved in the case unanimously made the decision to throw out the conviction.
"I'd like to thank the Pennsylvania Superior Court judges for their wisdom and their transparency in reviewing my case, unanimously overturning my conviction and granting me a new trial. The past 11 years have been mentally and emotionally challenging, but I'm ecstatic that justice prevailed." Meek added.
Press play below for more on this story.