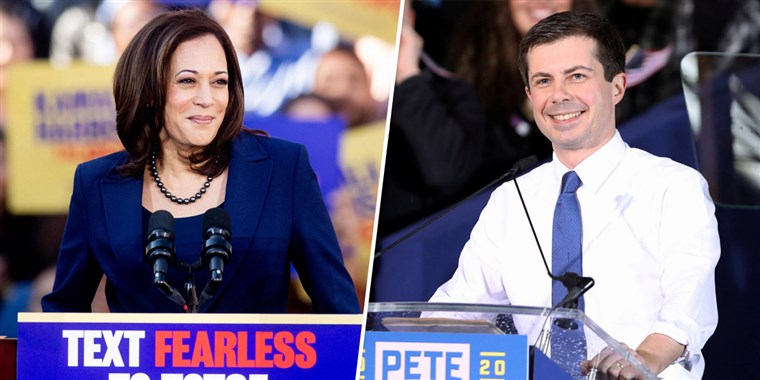 Democratic Presidential hopefuls Kamala Harris and Pete Buttigieg are going after the Black vote in major ways by recently unveiling massive plans to increase home ownership and entrepreneurship within the black community.
While at Essence Festival over the weekend, California senator Kamala Harris unveiled a $100 billion plan to increase black homeownership while South Bend, Indiana Mayor shared his plan to encourage black entrepreneurs.
Harris' proposed plan would offer down-payment and closing cost assistance of up to $25,000 to renters and families living in redlined neighborhoods. It could also help increase the median wealth of black families by $32,000, the New York Times reports.
"A typical black family has just $10 of wealth for every $100 held by a white family," Harris said in New Orleans on Saturday, according to Politico. "So we must right that wrong and, after generations of discrimination, give black families a real shot at homeownership—historically one of the most powerful drivers of wealth in our country."
Meanwhile, Pete Buttigeig' Walker-Lewis plan was named after historic black entrepreneurs Madam C.J. Walker and Reginald F. Lewis and aims to close the economic wealth gap through the increase of black businesses.
"Let's talk about economic empowerment," Buttigieg said to Essence Fest attendees according to Essence. "Women of color account for nearly half of all women-owned businesses — $386 billion dollars of annual revenue. Which means that we should continue lifting up women of color and Black-owned enterprises not just with our words, but with our dollars."
In a private interview with Essence, Buttigieg said the plan would allow those who qualified for Pell Grants an opportunity to have their student loan payments forgiven if they start a business and employ three people within five years. He also called for creating a $10 billion fund to invest in businesses that are started by minorities, Essence reports.
"We can do that, and we should," he insisted. "This is what freedom looks like in the 21st Century," Buttigieg said.
Press play below for more on this story.