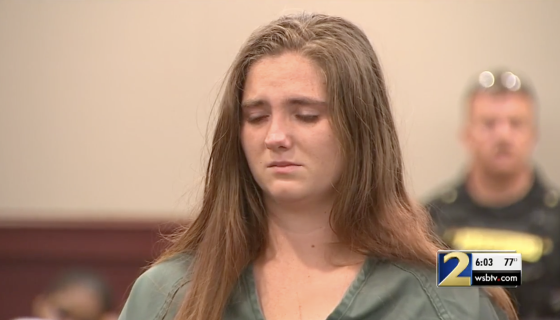 A white girl in Georgia broke down in white tears after a judge revoked her bond for the murder of a black man she killed over a hit and run.
21-year-old Hannah Payne became emotional after a Clayton County judge denied her request for bond Friday afternoon, WSB-TV reports. Payne was put behind bars after witnesses say she fatally shot 62-year-old Kenneth Herring on May 7 after she chased him from the scene of a hit-and-run accident.
Prosecutors accuse Payne of attempting to take justice into her own hands after she followed Herring following a car accident he left the scene from. Though she wasn't even a part of the initial hit and run, Payne reportedly ignored 911 dispatchers instructions to remain at the crash site and instead followed Herring for a mile, trapped his car with her Jeep, and then approached the victim with a gun.
Payne can be heard screaming at Herring in a recording from a frantic 911 call. She claimed she followed him because she thought he was drunk but toxicology reports found no alcohol or drugs in Herring's system. A struggle ensued between the two and Herring died after Payne fatally shot him in the stomach, police said.
Witnesses say they saw Payne "punching" the victim and repeatedly ordering him out of the car. Another eyewitness told police they saw the young woman change out of her bloody shirt before officers arrived at the scene.
Authorities initially charged Payne with murder, and she was released after posting $100,000 bond. But she was thrown back in Clayton County Jail on June 21 after a jury indicted her on new charges, including malice murder, felony murder aggravated assault, false imprisonment and possession of a firearm during a felony, Atlanta Black Star reports.
Herring's widow, Christine Herring, hopes the judge sets a stiff bond "where [Payne] cannot afford to get out. The numbers should be high as ever", the outlet reports.
Meanwhile, Payne's attorney, Matt Tucker, says his client is a "good Samaritan" who acted in self-defense despite prosecutors saying otherwise.
"She's using deadly force; she wasn't faced with deadly force," District Attorney Tracy Graham Lawson said at a hearing last week. "You cannot claim self-defense and use deadly force unless you're not the initial aggressor — she is."
Press play below for more on this story.