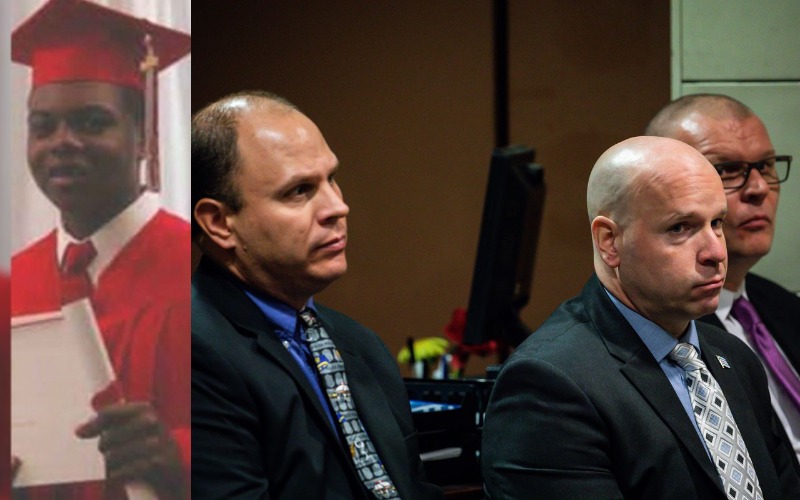 The Chicago Police Board voted to fire 4 cops involved with covering up the 2014 shooting of Laquan McDonald.
The officers were terminated on Thursday by a nine-member board after being accused of covering up the 2014 killing of McDonald, a black 17-year-old who was shot 16 times by a white police officer.
The board announced that Sgt. Stephen Franko and Officers Janet Mondragon, Daphne Sebastian and Ricardo Viramontes would be discharged from the Chicago Police Department. It was found that the officers exaggerated the alleged threat McDonald posed in order to justify Officer Jason Van Dyke shooting him 16 times in October 2014. Franko was Van Dyke's immediate superior, and the three other officers were on the scene when Van Dyke issued the fatal shots.
The findings showed that Franko approved falsified reports that accused McDonald of assaulting Van Dyke and the other officers. Franko also allowed his officers not to use the audio component of their in-car video systems, which affected the police department from being able to properly investigate the shooting.
The board found that the remaining three officers "failed in their duty" to provide truthful statements to investigators, "either by outright lying or by shading the truth," according to the findings.
The four terminated officers had been assigned to desk duty during the Police Board's case. They still have the option to fight against their terminations by filing lawsuits in court, the Chicago Tribune reports.
The vote comes nearly five years after Van Dyke killed McDonald on Chicago's South Side for carrying a small knife. The fatal shooting sparked national outrage and further ignited the Black Lives Matter movement. 
Back in January, Van Dyke was sentenced to just under seven years in prison for second-degree murder. He was the first Chicago police officer in half a century to be convicted of murder for an on-duty shooting. 
Press play below for more on this story.