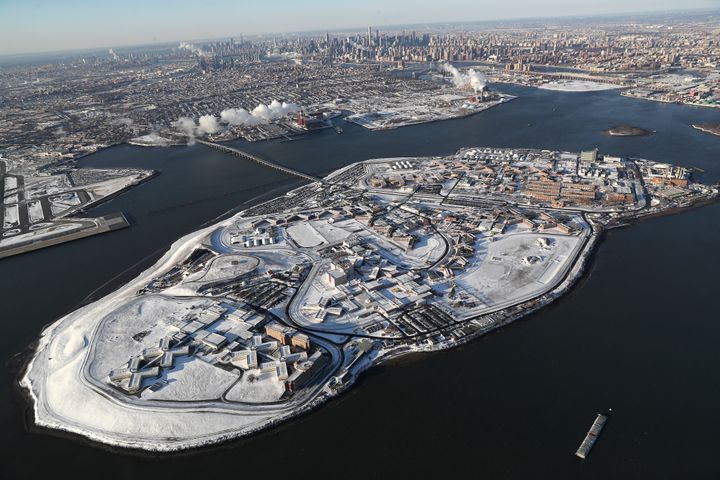 Members of the New York City Council have proposed a series of green energy bills that aim to replace the notorious Rikers Island jail with a solar farm.
The newly proposed trio of bills would set the stage to transition the infamously violent jail complex into a solar farm and wastewater treatment facility. According to Queens Councilman Costa Constantinides the bills would ensure the 400-acre island stays out of the hands of luxury developers while also tackling pollution as part of the historic Green New Deal legislation he helped pass last month.
Rikers Island is slated to close by 2027 with the timeline expected to speed up. One of the three bills aims to give the environmental agency power to start converting buildings on the island to sustainable resources once the inmate population falls below 5,000.
"We know all the atrocities that have happened on Rikers Island for close to 100 years," Constantinides, who authored the bills, told HuffPost on Friday. "It's important that we start planning for this renewable future now and not wait until the jails are closed."
A Town Hall on the new bills was held on Thursday night where U.S. Representative for New York's 14th congressional district Alexandria Ocasio-Cortez, the face of the Green New Deal movement, called a "renewable Rikers Island exactly the kind of vision we can espouse, create, develop and bring to fruition."
"It's no secret there are very powerful real estate lobbies in New York City, and every square inch is an opportunity to make a buck," Ocasio-Cortez said at the event. "We're really feeling that squeeze with housing, and a lot of folks have 10-year plans for our neighborhoods, so it's time for us to make 10- or 20-year plans for ourselves."
"This will give us an opportunity to right wrongs," Constantinides said, "not only by closing Rikers, which is a moral imperative to do, but turn that island into something that benefits the same communities that were over-policed."
Press play below for more on this story.