Photos of white students wearing cornrows and bandanas for their school's annual "Thug Day" has sparked outrage online.
White students at Memorial High School in Houston, Texas wore cornrows, baggy sports jerseys, and gold chains last Tuesday as part of the school's annual Spirit Week. Though the day is actually called "Jersey Day" many students call it "Thug Day," according to Memorial High School senior Rachel Goodwin.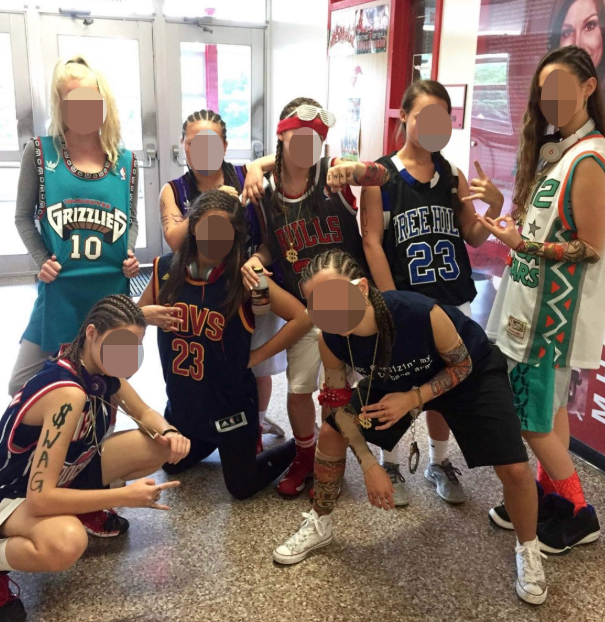 Goodwin' tweet went viral after she shared several photos of her classmates wearing sweatbands and fake tattoos that read "$wag" for Spirit week. Other photos show female students wearing baggy pants, fake face tattoos, and handcuffs.
The outfits sparked outrage online after many criticized the students for appropriating and making a mockery of black culture.
"Black people with this hair are denied jobs, internships, and get harassed at their schools. Here, Memorial High School students, are using it as costume," one Twitter user wrote. "It's rude. It's racist."
Meanwhile, Goodwin told HuffPost that Jersey Day has been used as an "undercover" thug day for years.
"The faculty has never changed it or disciplined the students wearing the things that offended many students," she added.
However, once the photos went viral, Memorial High School administrators responded to the controversy by canceling the rest of Spirit Week.
Administrators did release a statement to ABC13 that reads, in part:
On Tuesday, some rising juniors wore inappropriate dress and body/hair decorations as part of an alternative, unapproved response to the theme day. As a shared expectation about the theme was clearly violated, MHS has cancelled all remaining dress theme days for the remainder of this week. While the majority of rising juniors followed the approved dress theme on Tuesday, any instance of an inappropriate or offensive dress violation will not be tolerated. Students found to be in violation of the Student Code of Conduct and dress code will be given a consequence. MHS is focused today on preparing all students for finals and ending the school year well.
HuffPost spoke with current and former students who admitted that racism and bigotry have been a constant issue at Memorial High but is "swept under the rug", said Ava Lahijani, an Iranian Memorial High student.
"As a black student I am already not represented well at my school," junior Laura Fields added. "To see these events happen on Tuesday deeply offended and saddened me. I couldn't grasp how the staff could let this happen again after years of the same thing."
Fields also added that the behavior is "nothing new" for Memorial. Monica Day, a 2016 graduate, confirmed "thug day" has been happening for years. She also said that when she was at Memorial High in 2015, a few of the themed days for Spirit Week were "Swag Day" and "Senioritas Day" which also had offensive costumes, HuffPost reports.
"These last few days, I've been full of necessary rage against people who invalidate people like me," Hamlin, a black student, said. "Playing with a defined stereotype that hurts black, and other minority communities isn't appropriate for a high school spirit day."
Press play below for more on this story.