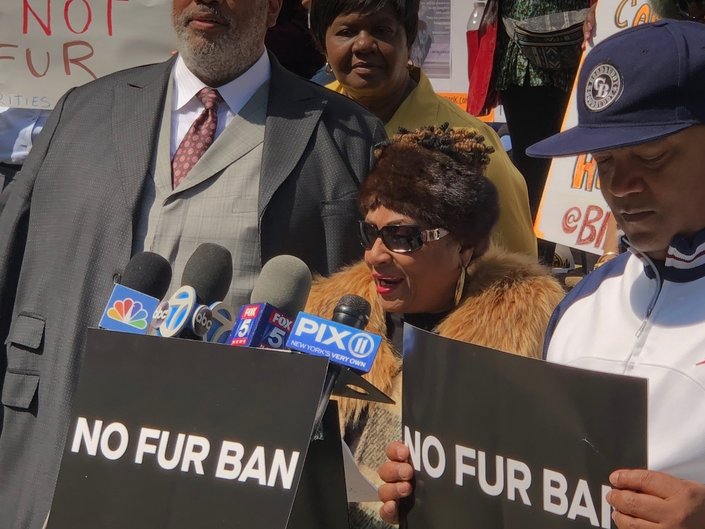 Now some might call it a major reach, but some black advocates in NYC feel the city's new ban on fur is a personal attack on their culture.
A rally was held outside NYC's City Hall on Wednesday where African-American clergy and other advocates argued that the City Council' proposal to ban fur sales threatens a tradition in black culture. Rev. Phil Craig was among the 75 clergy members and advocates who rallied against the ban while wearing fur hats despite the near 70-degree temperature.
"People feel complete when they put on something that they worked hard for, they have sacrificed for," said the Rev. Phil Craig.
The new bill introduced by Council Speaker Corey Johnson bans city merchants from selling brand-new fur apparel and fines those who do. Used fur garments are allowed to be sold, as well as other items made from them. However, the black advocates feel the bill discriminates against the African Americans who wear furs to signify how hard they worked to acquire the luxury item.
"I thought my mother loved her coat more than she loved me almost," Craig said.
Advocate Jackie Rowe-Adams said she wears furs in remembrance of her late son.
"When I put on my fur, I feel like my son is near," she said.
But Rowe-Adams feels the proposed ban is discriminatory due to how it targets majority-minority New York City while ignoring the affluent residents who wear furs in suburban communities.
"Why should we be excluded from purchasing furs when other neighborhoods and communities are not?" Rowe-Adams said. "That is definitely discrimination."
Some African-American advocates also expressed concern that the ban would lead toward bans on other luxury items like leather coats or alligator shoes. Meanwhile, animal-rights activists have lobbied in support of the bill. Since last year the Fur Information Council of America spent $105,000 on lobbying related to a proposed ban, city records show.

"Project Runway" star Tim Gunn even penned an op-ed in favor of the bill on Wednesday. But others like Omowale Adewale, the founder of Brooklyn's Black VegFest, feel people are only seeing the bad side of a tradition that started as a way for black people to show that "we've kind of made it."
"Once they understand at least what animals have to go through to get through that process, no community that has been oppressed would want to have any group of anyone to be oppressed," Adewale said.
Press play below for more on this story.