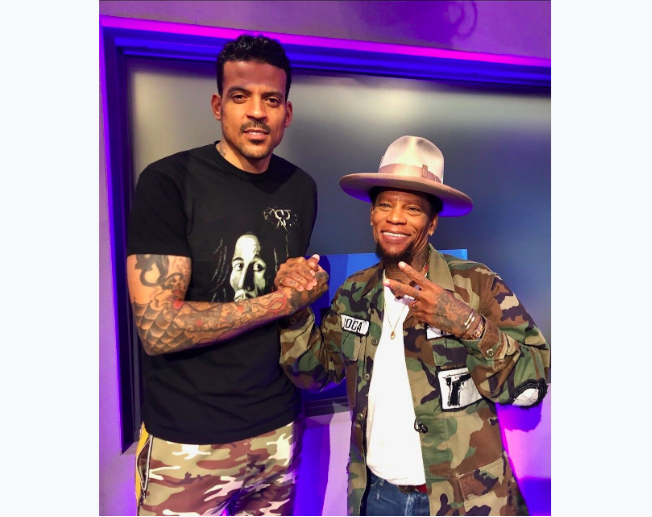 Former NBA player Matt Barnes recently stopped by "The DL Hughley Show" where he spoke openly about his late friend Nipsey Hussle and how white media has embraced the slain rapper as a hero.
With Barnes having played for both the LA Lakers and LA Clippers at the Staples Center, Nipsey Hussle' memorial service that was held at the center on Thursday, April 11 really hit home for the NBA Champion.
RELATED: Grammy Award-Winner Anderson .Paak Talks The Life And Legacy of Nipsey Hussle On 'THE DL HUGHLEY SHOW"
During his interview, Barnes recalled meeting Nipsey in 2009 and recalled the emcee always being for the people and always trying to better himself and his community. He shared a friendship with the artist and was fortunate to have Nipsey perform at his birthday in the Bay Area.
Joining DL in the studio this week are comedian Russell Peterson Monday, April 15; actor/comedianGeorge Lopez on Tuesday, April 16; Grammy-nominated singer Kenny Lattimore on Wednesday, April 17; and actor/comedian Chris Spencer on Thursday, April 18. The series dives head first into the hot topics of the day and dishes on the latest news, entertainment, pop culture and what's trending in social media. Always insightful and informative, Hughley and his co-host Jasmine Sanders use humor to deliver everything from hard news to lighter fare. The nighttime show offers everything from covering the day's major headlines and roundtable discussions to celebrity guest interviews and comedy bits.
Press play below for a snippet from the interview and be sure to "The DL Hughley Show" Monday through Thursday at 11/10C PM with an encore the following day at 11/10C AM only on TV One.