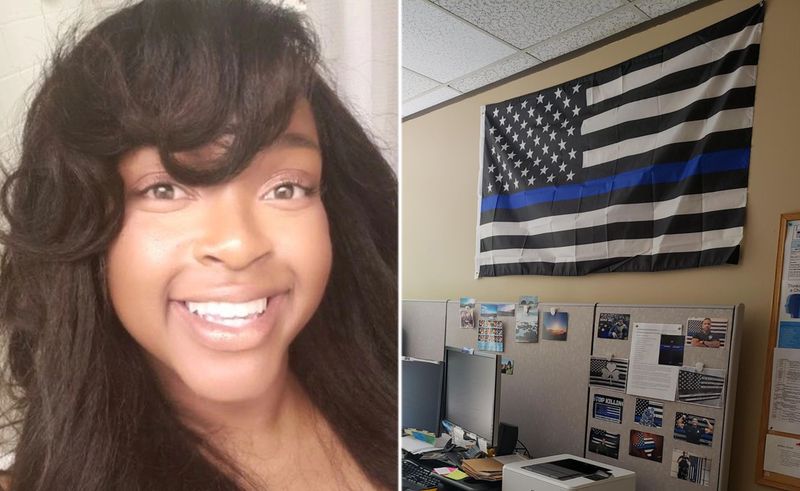 Oregon county was forced to pay a black female employee $100k following her complaints about a "Blue Lives Matter" flag in her workplace.
Karimah Guion-Pledgure reached the settlement following her claims that her workplace became hostile and racially insensitive after she complained about a "Blue Lives Matter" flag that was posted in the office. Guion-Pledgure went on to sue Multnomah County after months of alleged harassment.
In July 2018, Guion-Pledgure created her own "equity wall" in response to the Blue Lives Matter flag being able to remain on the wall, the lawsuit states. The "equity wall included visuals of people of color killed by police in the United States and photos of immigrant children being separated from their parents at the U.S.-Mexico border. After her co-workers complained about the wall the next day, she was told to remove it but refused due to the Blue Lives Matter flag being allowed to stay up for months despite her many complaints.
In response, the office launched a policy that limited the size of wall pictures to smaller than 5-x-7 inches. Co-workers in support of the Blue Lives Matter flags responded by bringing in smaller versions and left notes on Guion-Pledgure's equity wall that read "Thanks a lot," and "Bitch."
She went on to file the lawsuit after she reported the incident and went on leave for a few weeks but returned to even more complaints against her. and anxiety stemming from the workplace continued for months and she eventually filed a lawsuit. She was originally seeking $420,000 in the lawsuit but settled for $100,000.
The winning lawsuit used the claim that the Blue Lives Matter flag "demeans" the Black Lives Matter movement. The lawsuit was filed after a probation officer at the woman's office hung one above his desk in September 2017. After she complained, her supervisors did not require the man to remove the flag and her co-workers did not agree that the flag was derogatory.
However, Guion-Pledgure claimed that she was harassed due to her beliefs and faced "discrimination and retaliation" during her time working as a corrections technician for the county.
The Multnomah County Board of Commissioners approved the settlement on Thursday, and as part of the settlement, Guion-Pledgure had to resign from her job with the county on Friday.
Press play below for more on this story.