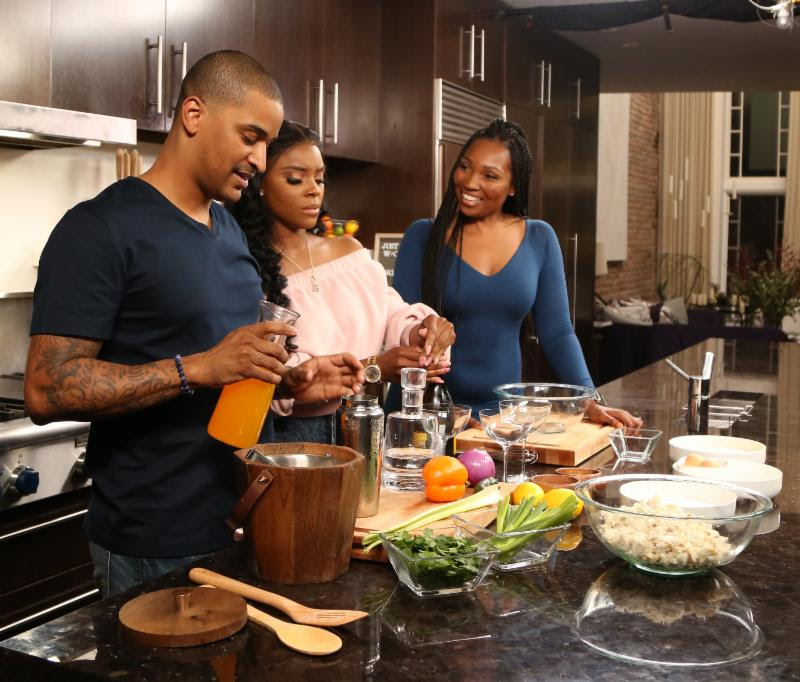 Looks like former "Basketball Wives" star Angel Love Davis has a taste for what Cleo TV's Chef JJ is cooking!
On an all-new episode airing Saturday at 12 P.M. ET/11C reality star and #NurseBae Angel Love Davis has some on-air chemistry with Chef JJ! JJ tells Angel that she would be the filling in his cake and you'll have to watch to see how she responds.
Joining Angel Love Davis on the show is Harlem activist Alize Garcia. The two visit Chef JJ's kitchen this week to prepare dishes that are downright delicious including Jumbo Lump Crab Cake Po Boys with Roasted Broccoli Steaks. The trio engage in lively conversation and laughs over two-spirited cocktails with vodka, passion fruit and champagne.
Angel Love is no stranger around the kitchen as she hails from Louisiana and loves to cook New Orleans cuisine. The former "Basketball Wives LA" star specializes in oncology and her positive energy brightens and lifts her patients' spirits. Alize works for the New York City Mayor's Office and inspires others to follow their passion and put in the work to reach their pinnacle of success. Alize's namesake leads the group to share fun memories about drinking the popular cocktail and engage in playful banter about food and romance.
Tune in Saturday at 12 P.M. ET/11C to see who spills the tea on which celebrities they have a sweet tooth for.