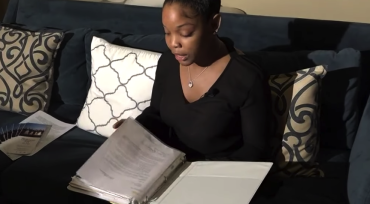 A high school senior in Georgia has made her family proud after getting accepted to 39 college and being awarded $1.6 million in scholarships!
Jordan Nixon, a senior at Douglas County High School in Douglasville, Georgia, has been accepted to Grambling State University, a historically black public university in Grambling, Louisiana and 38 more top colleges and HBCUs. Nixon and her parents are still expecting more acceptances to come in.
"When they first started coming in, she was shocked by the letters and the amount of scholarships offered to her," her mother, Angelia Nellis-Nixon, said. "It became so funny because it was like every other day there was mail for her. And, before, she would never go to the mailbox."
Nellis-Nixon says her daughter has narrowed it down to a top three but has not revealed the list to her family except that she will likely end up in a "warm climate."
The soon-to-be college student plans to take a double major in international business and entrepreneurship with a goal of starting her own businesses after graduation. The young scholar has already started running a few businesses while in high school.
She runs a consignment website and in-home yard sale and sells clothing and shoes to friends, Nellis-Nixon said. Nixon used the Black Common College Application, a sharing database that allows students to apply to any number of 51 HBCUs across the country. In total, the high schooler has applied to more than 50 colleges.
According to Sumter, Jordan Nixon has been accepted to the following colleges so far:
1. Alabama State University
2. Berry College
3. Central State University
4. Clark University – Massachusetts
5. Coppin State University
6. Edward Waters College
7. Emmanuel College – Massachusetts
8. Florida International University
9. Florida Southern College
10. Georgetown College – Kentucky
11. Georgia State University
12. Grambling State University
13. Hampton University
14. Harris-Stowe State University
15. High Point University
16. Howard University
17. Johnson & Wales University – Rhode Island
18. LeMoyne-Owen College
19. Lincoln University – Missouri
20. Livingstone College
21. Loyola University New Orleans
22. Mississippi Valley State University
23. Nova Southeastern University
24. Oglethorpe University
25. Queens University of Charlotte
26. Rollins College
27. Simmons University
28. St. Edwards University – Texas
29. Stetson University
30. Tuskegee University
31. University of Arkansas at Pine Bluff
32. University of Maryland Eastern Shore
33. University of Tampa
34. University of Virgin Islands
35. Valparaiso University
36. Virginia Union University
37. West Virginia State University
38. Wofford College
39. Xavier University – Ohio