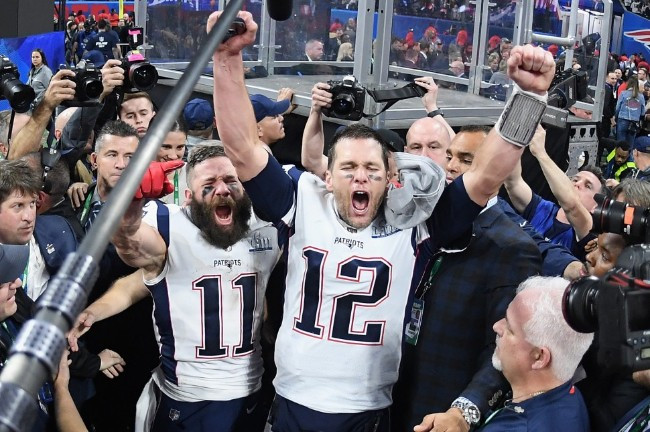 Talk about making a statement! It appears the NFL's Super Bowl LIII suffered from the lowest ratings in a decade on Sunday.
Amid the outpouring support for former 49ers quarterback Colin Kaepernick, ratings were down 5 percent from last year's game, according to Deadline.
Super Bowl LIII saw the New England Patriots win yet another championship game with quarterback Tom Brady claiming a record sixth championship ring, and a halftime show where Adam Levine's chest left us wanting more. It was also the least-watched Super Bowl in 10 years. It could be that the game was lackluster to say the least. The New England Patriots defeated the Los Angeles Rams on Sunday in Atlanta with a 13-3 score, one of the lowest-scoring Super Bowl games in history.
But many continue to #StandWithKaepernick after he opted out of his contract in 2017 and has remained unsigned in the NFL since. He remains in a collusion case against the organization over claims he was blackballed after starting the #TakeAKnee movement in silent protest against police brutality and social injustice against people of color.
However, NFL Commissioner Roger Goodell said last week that Kaepernick remains out of the NFL because teams don't think they can win with him on their roster.
"I think if a team decides that Colin Kaepernick or any other player can help their team win, that's what they'll do," Goodell said on Wednesday. "They want to win and they make those decisions individually in the best interest of their club."
Did you watch the Super Bowl? Comment below.