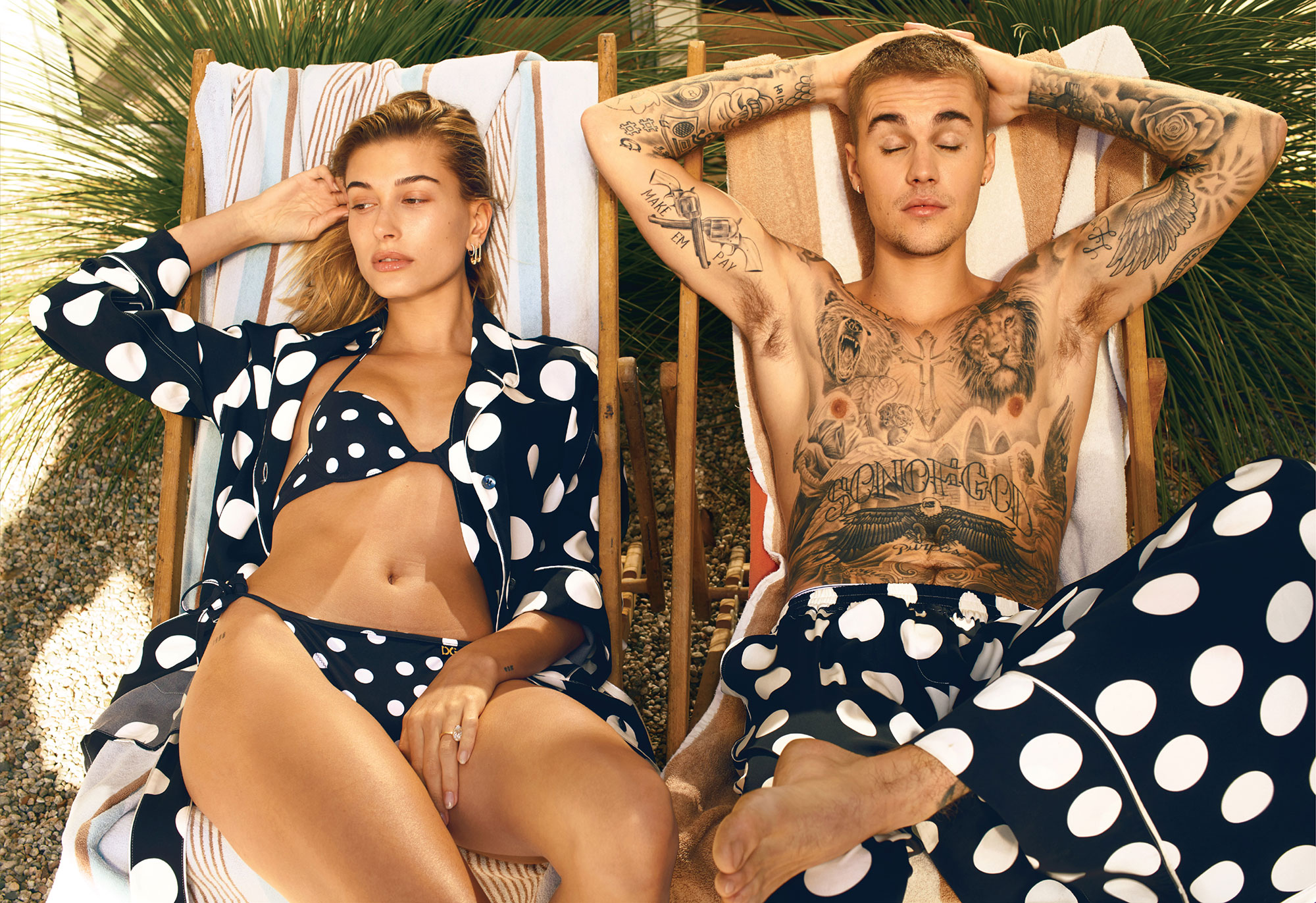 It's been two years since pop star Justin Bieber sat down for an interview. So when Vogue interviewed him and his wife Hailey Bieber for their cover shoot…..the Biebs got super candid!
For one, the 22-year-old supermodel opened up the interview admitting how challenging married life has been for the newlyweds.
"The thing is, marriage is very hard," says Hailey. "That is the sentence you should lead with. It's really effing hard."
To which her husband agreed.
"The thing is, marriage is very hard. We're really young and that's a scary aspect. We're going to change a lot. But we're committed to growing together and supporting each other in those changes," Justin said.
The couple got married at a lower Manhattan courthouse last September after dating for twelve weeks following a nearly ten-year friendship. The newlyweds are still in the process of finalizing their plans for a real wedding when they decided to bless Vogue with the candid interview.
Justin revealed that the couple rushed to get married after committing to remaining celibate until marriage, which he feels God has blessed them for.
The "Promise" singer said God "doesn't ask us not to have sex for Him because He wants rules and stuff. He's just trying to protect you from hurt and pain."
Bieber opened up about his past struggles with depression and how he's learning to deal with that in his marriage.
"I got really depressed on tour," he recalls. "I haven't talked about this, and I'm still processing so much stuff that I haven't talked about. I was lonely. I needed some time."
"I've struggled with the feeling that people are using me or aren't really there for me, and that writers are looking to get something out of me and then use it against me. One of the big things for me is trusting myself. I've made some bad decisions personally, and in relationships. Those mistakes have affected my confidence in my judgment. It's been difficult for me even to trust Hailey."
Hailey confessed that she struggles to be emotionally available with Justin.
"He'll say, 'I feel,' and I'll say, 'I think,'" she explained. "I have to really dive deep and struggle to be in touch with my emotions. He gets there immediately."
The couple dated briefly three years ago but it had a very messy ending.
"Negative things happened that we still need to talk about and work through," Hailey said. "Fizzled would not be the right word—it was more like a very dramatic excommunication. There was a period where if I walked into a room, he would walk out."
However, in June 2018, the two rekindled their relationship after bumping into each other at a church conference hosted by Vous Church pastor Rich Wilkerson Jr.
"The common denominator, I promise you, is always church. By then, we were past the drama. I just gave him a hug. By the end of the conference, he was like, 'We're not going to be friends.' I was like, 'We're not?'" Hailey said.
Just 12-weeks later, the two were engaged.
"I prayed to feel peace about the decision, and that's where I landed," Hailey explained. "I love him very much. I have loved him for a long time."
It wasn't long until the two were married in a New York courthouse. The singer admits how emotionally unstable he is but praised his "baby boo" Hailey for keeping him stable.
"I'm the emotionally unstable one," says Justin. "I struggle with finding peace. I just feel like I care so much and I want things to be so good and I want people to like me. Hailey's very logical and structured, which I need. I've always wanted security—with my dad being gone sometimes when I was a kid, with being on the road. With the lifestyle I live, everything is so uncertain. I need one thing that's certain. And that"—he picks up her hand—"is my baby boo."
The love appear to have done the interview in hope of showing the public how genuine their love is for each other and wanting to be good examples in the world.
"It's just that I'm fighting to do this the right way, to build a healthy relationship," Hailey clarifies. "I want people to know that. We're coming from a really genuine place. But we're two young people who are learning as we go. I'm not going to sit here and lie and say it's all a magical fantasy. It's always going to be hard. It's a choice. You don't feel it every single day. You don't wake up every day saying, 'I'm absolutely so in love and you are perfect.' That's not what being married is. But there's something beautiful about it anyway—about wanting to fight for something, commit to building with someone. We're really young, and that's a scary aspect. We're going to change a lot. But we're committed to growing together and supporting each other in those changes. That's how I look at it. At the end of the day, too, he's my best friend. I never get sick of him."

Justin smiled and replied.

"And you're my baby boo."
Visit Vogue for the full interview and press play below for more on the Biebers.