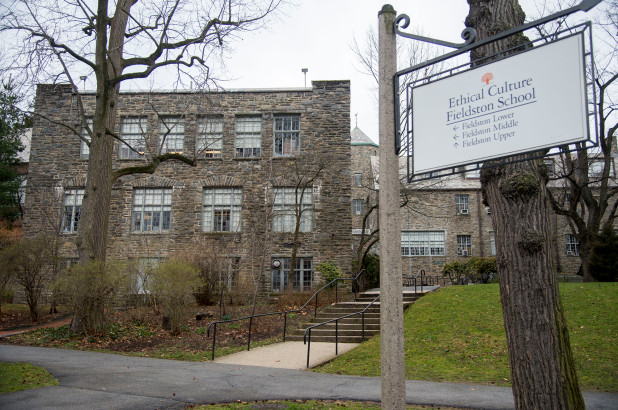 An elite private school in the Bronx, NY is being blasted by a racist student video that recently went viral on social media despite it being recorded several years ago.
The video shows three white male students from the progressive Ethical Culture Fieldston School repeat the phrase "crack n—-r" and it has since prompted an all-hands response from school administrators, NY Daily News reports. The faculty has conducted student body meetings, sent letters to parents and alumni, and disciplined the students involved. However, it doesn't erase the fact that the incident is the second scandal over a racist video involving a posh New York City private school in 2019.
The latest video comes one month after a blackface video emerged at Brooklyn's Poly Prep Country Day School in January. In a copy of the Fieldston video, three male students appear to be intoxicated at an off-campus party while lying on the floor and drinking beverages from cans.
One student says to the person recording the video, "on three, crack n—r." Then the kids repeat the phrase and laugh.

"Crack n—-r, you know what it is," another one one of the teens says.
According to school sources, the video was made several years ago but recently went viral among students in February. However, despite the claims the video was recorded years ago, school officials decided to take disciplinary action against the kids involved this month.
School officials sent a letter to parents on Feb. 13 addressing the video, in which they refer to another incident of racist language recorded on video from a previous school year.
"We are reckoning with another incident of the use of racist language in our Upper School community recorded on video," states the letter addressed to the Fieldston Upper School community from school leaders Jessica L. Bagby and Nigel D. Furlonge.

"The anguish and outrage so many of us feel cannot be overstated enough." "We have a strict no-tolerance policy when it comes to acts of bias and hate speech," the letter continues. "We are taking decisive action with the students who have violated our community expectations."
The letters were sent out along with links to information on the history of the N-word and information on student events set up to discuss the incident. School officials say the video was made two or three years ago and that the students involved were currently upperclassmen.
In an email sent to alumni on Monday, Bagby addressed the issue again.
"We recently learned about the existence of video made a few years ago that involves several ECFS students and one former student using racist, homophobic, and misogynistic language in clear violation of our community values and expectations," Monday's letter states.

"One student withdrew from Fieldston. The consequences for other students involved have been differentiated based on their responsibility for video, its content, and how it was used," it continues. "We will make no further comment on the disciplinary process as it is confidential and involves teenagers."
However, one student is questioning why the video wasn't an issue when it originally surfaced.
"The biggest issue would have been, obviously, why wasn't this problematic to you before?" one student said.
Press play below for more on this story.